About me
---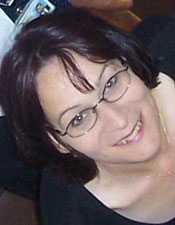 I'm Shiela Dixon, an enthusiastic knitter, spinner and walker.
I've always loved crafts. After a spell with glass engraving I worked for twelve years as a stained glass artist before discovering softer and more forgiving materials.
I am based on the border between Leicestershire and beautiful South Derbyshire.
Contact me

email: shiela@p2tog.com
I am a member of the Federation of Small Businesses
Other ways to hook up
- I write Hand Spinning News
- I draw Yvonne the Sheep
- I am shieladixon on Instagram
- I am shieladixon on Twitter
- I am one of the Stitchin' Bints
- I am also known as peahen on Ravelry
Testimonials
"My beautiful yarn bowl along with the very pretty chart keeper arrived this morning. I am delighted with them. So much so, that I'm going to buy another yarn bowl and the smaller version of the chart keeper. They arrived promptly and professionally wrapped and I had a very helpful email exchange with Sheila before I placed my order. I will be very dependent on this website now that my local yarn shop has closed, there is no where else in Birmingham which sells such specialist and delicious products. I highly recommend this website to other knitters and craftspeople!"
- Lynn
Thank you for the rosewood needles, they are beautiful! I have knit pro interchangeable circulars which are lovely but having tried your rosewood straight I am converted.
- J M
Thank you so much for the prompt sending of the [Rosewood circular] knitting needle ... it is very nice to knit with - extremely comfortable, quiet and easy on the hands! I know where to come for needles in the future.
- P H