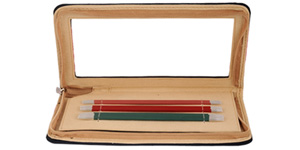 Zing lightweight metal double-point set
15 cm (6ins) 5 needles of each of 5 sizes
The new and stylish range from KnitPro. Made from lightweight metal finished with metallic colours to identify sizes and shiny silver-coloured tips.

5 sizes, 2mm, 2.5mm, 3mm, 3.5mm, 4mm - 5 needles per size

The tips seem a little less sharp than the Symfonie and Nova range, but may be a little sharper than Karbonz

Each size is in a different colour, colours go across the whole zing range, double-points, circulars and single-points see the colours on this chart

Size laser-engraved onto all needles.
£25.50 17.85
This shop is now in holiday mode. why?