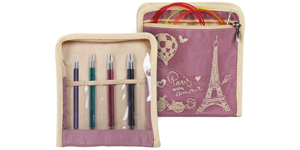 Knitpro Royale interchangeable
midi set
Knitpro Royale needles are made of coloured birch wood for lightness and strength, with metal tips for a precise point. The surface is warm and silky. Knitpro tips are sharp but gently tapered making them a pleasure to work with.

The Royal range are attractively coloured, coded for size.

The interchangeable ranges have smooth joins which won't catch your yarn and cables which don't have a 'memory'.

This set comes in a Paris-themed embroidered fabric and clear case.

Choose a tip size and cable length to suit your project.

tips: 4 pairs 3mm - 4.5mm cables: 60cm, 80cm plus case.
£34 23.80
This shop is now in holiday mode. why?