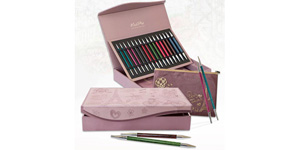 Knitpro Royale interchangeable
limited edition set
Knitpro pays tribute to the romantic city of Paris with this limited-edition interchangeable needle set. This is the limited-edition set in a presentation box, I still have a couple left.

The needles themselves are colour-coded laminated birch, similar to the Dreamz sets but with the addition of nickel-plated brass tips. A new addition is the engraving of the tip size on the metal connector.

Tip sizes, 3.5mm, 4mm, 4.5mm, 5mm, 5.5mm, 6mm, 7mm and 8mm. Four cables are included (also colour-coded in this set) 60cm, 80cm x2 and 100cm. Also included are end caps, tightening keys and a set of cable connectors.

The presentation box has a pearlised sheen and the accessories are in a paris-themed silk pouch.
£60 42.00
This shop is now in holiday mode. why?